2020.01.14 22:59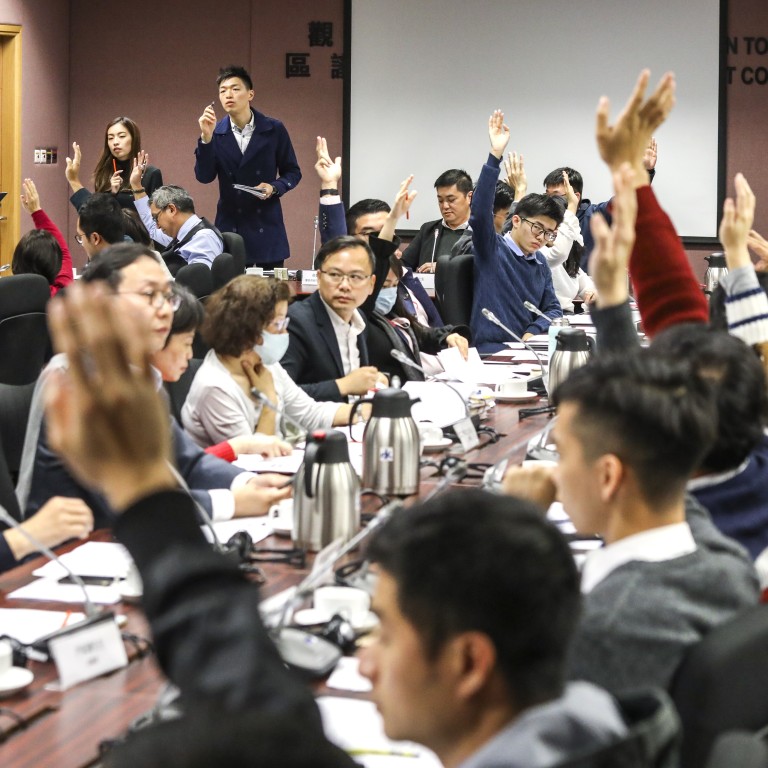 Kwun Tong District Council now has a majority of pro-democracy members. Photo: K.Y. Cheng
Kwun Tong district councillors on Tuesday condemned Hong Kong's home affairs minister for refusing to heed their call to halt a controversial HK$50 million (US$6.4 million) musical fountain project, and failing to send a representative to their meeting.
The non-binding motion to condemn Secretary for Home Affairs Lau Kong-wah, passed on Tuesday, was backed by 28 pro-democracy councillors, while nine pro-government members abstained.
Lau snubbed the meeting even though Kwun Tong District Council had already passed a first motion last week to call for a halt to the fountain construction and asked him to send representatives on Tuesday to report on the project's progress.
The snub followed one by police to Yuen Long District Council last week, after members had invited the force to discuss a mob attack on July 21, where men wearing white T-shirts attacked protesters and commuters inside the town's MTR station.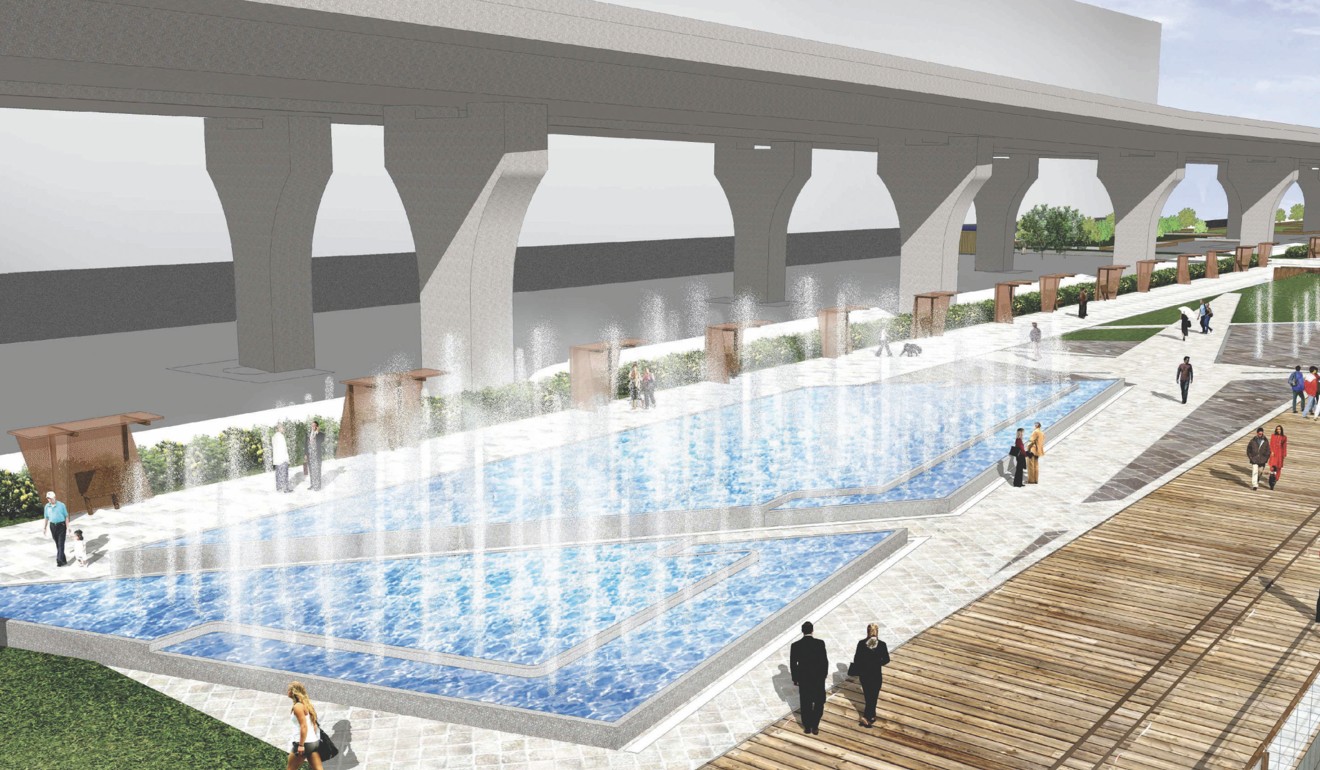 An artist's impression of the musical fountain on the Kwun Tong promenade. Photo: Handout
Amid the months-long anti-government protests, the pro-democracy camp gained a landslide victory in November's district council elections and form a majority in 17 out of 18 councils, including Kwun Tong.
Putting a stop to the musical fountain was among the priorities for winning Kwun Tong councillors.
During Tuesday's council meeting, some members said they felt disrespected and claimed the Home Affairs Department was ostracising the council.
Pan-democrats plan to cut patriotic celebrations, after local poll wins
"There is no incumbent councillor supporting the project in the whole of Kwun Tong," Democratic Party member Edith Leung Yik-ting said. "What grounds does the government have to continue with it?"
The controversial fountain is part of a scheme rolled out in 2013 under which the government earmarked HK$100 million for signature projects for each of Hong Kong's 18 districts.
In Kwun Tong, the plan was to spend HK$50 million on a music fountain on its promenade.
While the project was backed by pro-government politicians in previous district councils, critics branded it a white elephant for the high cost.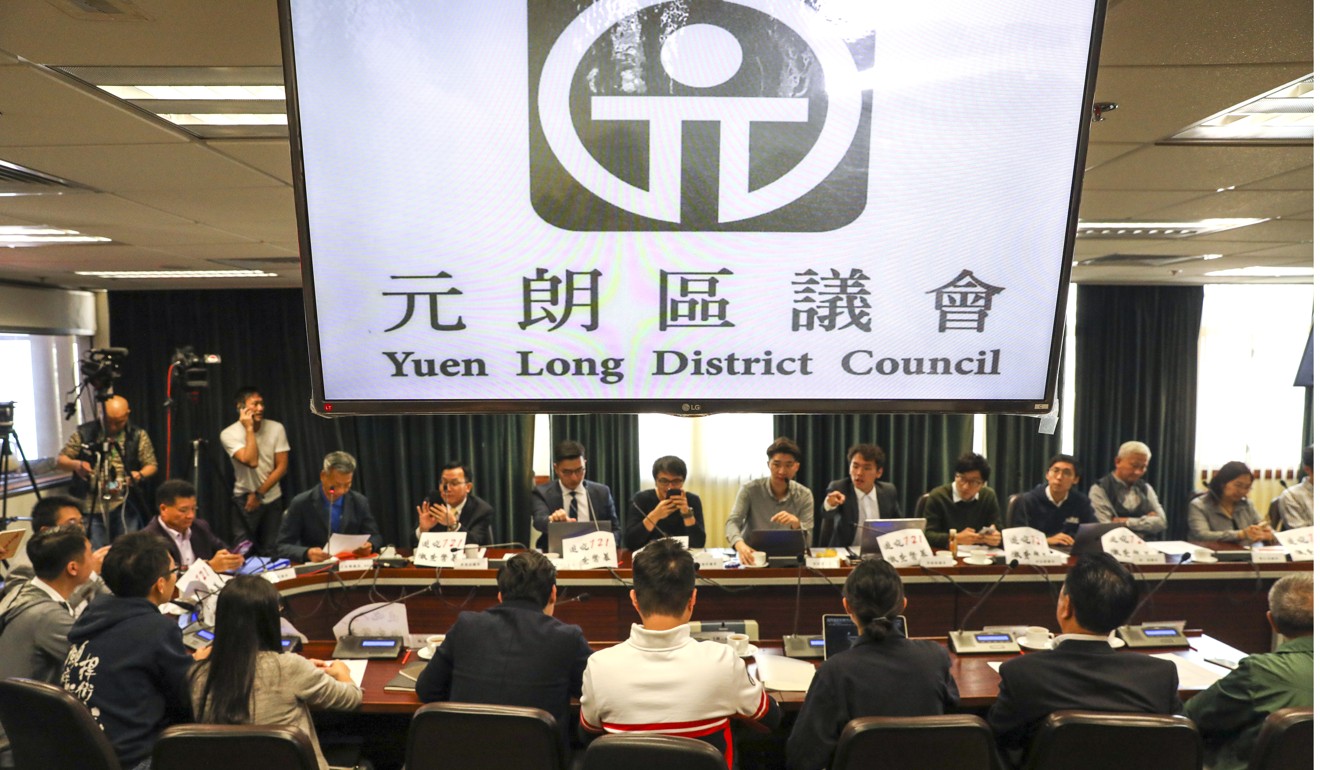 Police snubbed a meeting of Yuen Long District Council last week. Photo: Winson Wong
In a letter to the councillors dated Monday, the department said it would not be sending officials to Tuesday's meeting and did not explain its decision.
The department said construction had already started and it had no plans to halt it.
"Out of respect for due process and the spirit of contract, and for the cherishment of public funds, we will continue to push forward the project," it said.
The department also said details of the construction contracts were commercial secrets and refused to disclose more information.
Chief secretary 'disappointed' as opposition councillors snub meeting
Li Ka-tat, another pro-democracy councillor, warned that Kwun Tong residents may take to the streets.
"If our voices are ignored, the electorates behind us will come out," Li said.
Pro-government councillor Cheung Pui-kong, of the Democratic Alliance for the Betterment and Progress of Hong Kong, said members should respect decisions made by past councils.
Source